Professional
Oberlungwitz (Hybrid)
Flexible hours
Initiativbewerbung (m/w/d) in Oberlungwitz
Oberlungwitz

Please apply here on "MINTsax.de" with the "Apply Now" link/button at the top right.

Intelligent und Intuitiv - Übergabeautomation von KEMAS

Ob Schlüsselverwaltung, Fuhrparksteuerung, Werkzeuglogistik oder Wäschemanagement
Wir entwickeln und fertigen Software und Hardware, aus einer Hand, am Firmenstandort in Oberlungwitz (Sachsen).
Wir haben Mitarbeiter im Vertriebs- Außendienst, im technischen Vertriebsinnendienst, in der Produktentwicklung und Konstruktion, anwenderbasierten Softwareentwicklung und Hochfrequenzmesstechnik. Projektingenieure (Wirtschaftsinformatiker) betreuen die Projekte.
Elektroniker vollenden unserere Systeme und Servicetechniker (Elektroniker oder Mechatroniker) bringen diese deutschlandweit zu unseren namhaften Kunden. Mitarbeiter im technischen Support stehen den Kunden am Telefon zur Verfügung.
Ihre Persönlichkeit
Abgeschlossene Ausbildung, wünschenswert ist Berufserfahrung
Sorgfalt und Genauigkeit
Zielorientiertes und strukturiertes Arbeiten
Teamfähigkeit, Zuverlässigkeit 
Sehr gute Deutschkenntnisse (C1- Level)
Ihre Perspektive
Dauerhafter Einsatz, langfristige Perspektive, unbefristetes Arbeitsverhältnis
Ein interessantes und vielseitiges Aufgabenfeld in einem wachsenden Unternehmen
Aufstiegsmöglichkeiten
Was bieten wir?
1-Schichtsystem, flexibel mit Kernarbeitszeit
Möglichkeit für Zuschuss zur betrieblichen Altersvorsorge
Kostenfreie Getränke, Obst
Parkplatz auf dem Firmengelände
Team- und Sportevents, Wellpass/ Qualitrain
Vielfältige Weiterbildungsmöglichkeiten
Sie sind interessiert und finden sich in einem unserer Teams wieder?

Dann senden Sie uns Ihre Bewerbung, bitte ausschliesslich über den entsprechenden Button.
Elektroniker, Industriemechaniker, Konstrukteur, Bürokauffrau, Mechatroniker, Fachinformatiker, Büroassistenz, Vertrieb, Produktdesign, RFID, MINTsax.de, Empfehlungsbund
This Job resp. positions as 'Initiativbewerbung (m/w/d)' is vacant in following addresses: 09353 Oberlungwitz bei/in Zwickau in Sachsen.
Brief profile of KEMAS GmbH
Unternehmenswerte zu schützen und wirtschaftlich sinnvoll zur Verfügung zu stellen, ist unsere Herausforderung seit 1991. Der Focus liegt dabei auf einer intelligenten Vernetzung von Mechanik, Elektronik, RFID und Applikationssoftware im Sinne "IoT" bzw. "Industrie 4.0". Smarte Lösungen verknüpfen eindeutig identifizierbare physische Objekte (z.B. Türschlüssel, Dokumente, Arbeitsmittel, Fahrzeugschlüssel, Werkzeuge, Waffen etc.) mit einer Steuerungs- und Administrationssoftware.
Die Sicherung und Übergabe der Objekte erfolgt über intelligente Depotsysteme und Fachanlagen. Individuelle Berechtigungskonzepte sowie die gesamte Bandbreite der Personen- und Objekt-Identifikationstechnologien schützen zuverlässig vor unberechtigten Zugriffen.
Mehr als 90 Mitarbeiter engagieren sich täglich in zukunftsorientierten Projekten unserer namhaften nationalen und internationalen Kunden aus Industrie und öffentlicher Hand.
Unsere Lösungen werden bereits in den unterschiedlichsten Branchen eingesetzt. Egal ob der Werkschutz bei den Ver- und Entsorgern, der Rettungsdienst am Flughafen oder das Facility-Management im Krankenhaus – sie alle verlassen sich auf unsere Lösungen, wenn es darum geht die Sicherheit zu erhöhen, Mobilität zu gewährleisten oder Ressourcen bedarfsgerecht zur Verfügung zu stellen.
Sie haben nicht das Passende gefunden? Dann bewerben Sie sich initiativ!
Wir sind ständig auf der Suche nach motivierten Kollegen für innovative Projekte in den Bereichen Entwicklung, Fertigung und Vertrieb.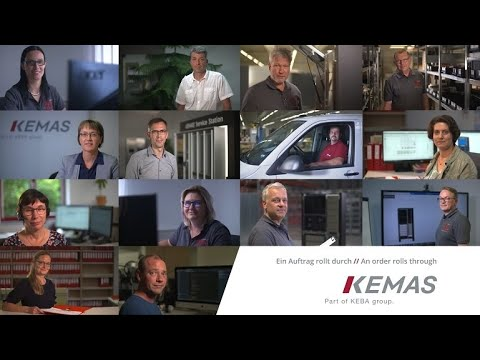 Spheres of competence
apprenticeshipRFIDDocumentationstudiesSystems engineerMaintenancetelecommunitcationsassemblymaterialengineerElectrical engineeringMeasurementAutomationengineeringtraineeIndustry 4.0C++mechatronicsIndustrialengineerqualitymanagementConstructionTelecommunicationsprojectmanagement
Job
Traineeships and apprenticeships
Apprenticeship • Oberlungwitz
2 days ago
Publication date: 24-01-2023