Binden und gewinnen mit Teilqualifikationen
Fri, 07 Dec 2018 12:09:10 +0100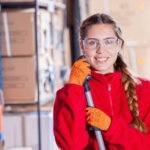 Mitarbeiter mit Teilqualifikationen zu binden und zu gewinnen, macht dann Sinn, wenn die Belegschaft über keinen (passenden) Berufsabschluss verfügt oder Sie Mitarbeiter für bestimmte Tätigkeiten anlernen wollen. Nun gibt es mehrere Möglichkeiten entweder selbst als Unternehmen oder mit externer Hilfe MitarbeiterInnen zu qualifizieren. Wichtig und richtig ist, dass Teilqualifikationen keine duale Ausbildung mit Facharbeiterabschluss verdrängen sollen. Jedoch gibt es im Rahmen der Fachkräftesicherung gute Argumente dafür Teilqualifikationen als Instrument anzuwenden.
Den kompletten Beitrag des Fachkräftesicherer finden Sie unter Binden und gewinnen mit Teilqualifikationen und können dort ihre Meinung 'sagen' und Wünsche äußern.
---
Other current blog posts of the organization
familienfreund KG
Die familienfreund KG versteht sich seit der Gründung im Mai 2006 als zentraler Ansprechpartner für alle Fragen der Mitarbeitenden und deren Angehörigen. Als Serviceunternehmen für die Vereinbarkeit von Beruf und Familie ist die familienfreund KG gern verlängerte Werkbank der Personalabteilung und Geschäftsleitung. Neben der Neuentwicklung und Umsetzung von mitarbeiterunterstützenden Vorhaben und Angeboten bietet das Spezialistenteam weitere Leistungen zur Unterstützung der Mitarbeiterfreundlichkeit und damit auch zur Mitarbeiterbindung.